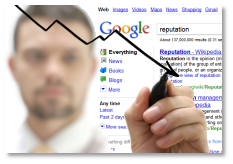 Take a minute and do a Google search for your company name, your domain name, and your personal name. What do those results on the first page or two in Google look like? Hopefully everything on the first few pages of search results is positive.
But you may find listings that paint your company in a less than flattering light. There could be...
blog or forum posts from disgruntled customers or previous employees,
negative reviews of your business or products, possibly planted there by your competition,
embarrassing personal details about top executives in your company.
There could even be whole sites devoted to the myriad ways in which you "suck".
And if you're seeing negative listings on the first few pages of Google, you can bet that many of your customers are seeing them too. And that's going to have a big effect on whether or not they decide to do business with you.
Few things are more important to your continued online success than your company's brand. And your brand can be quickly destroyed if you're not controlling what customers are presented with when they Google your company. This means...
Monitoring what people are saying about your brand online,
Practicing defensive SEO to control the top results when customers search for your brand, and...
Responding quickly and appropriately if and when negative search results appear.
Now if you Googled your company a few minutes ago and saw prominently displayed listings calling you a rip-off artist, then you're probably pretty eager to remove those negative search results before you lose any more customers. So let's begin with the most urgent issue at hand:
What do you do if negative results are grabbing the top spots when you search for your company in Google?
Dealing with Negative Search Results
The Top 10 Strategies for Pushing Down Negative Results
The goal here is to either find or create pages that say good (or neutral) things about you and getting them to rank highly. In ranking these pages for your branded terms you can push the negative results onto page two or three or further so that they are unlikely to ever be seen by any of your customers.
The way you'll get these pages to rank highly is by building links to the page or by creating pages on an older and more authoritative domain. For best results, do both. Build links to positive listings by linking to those pages from your own sites, creating new sites to link to them, or purchasing links from other sites. Be sure to link to those positive listing pages with the anchor text keywords you want them to be found for. Generally this will be your business name or other branded term.
Here's the 10 top strategies for pushing negative listings out of the top results, roughly in order of effectiveness.
Defensive SEO
Monitoring Your Reputation Online
Online, Reputation is everything!
An wise man once said,
"Steal my money and I can earn more but let no man steal my good name."
In today's world where anyone or anything can be easily "Googled", hard earned success can be wiped out overnight if companies fail to actively manage their reputation. After all, online, we "are" what people say we are!

Stay Reputable!
Kristi Hagen
Planet Ocean Communications