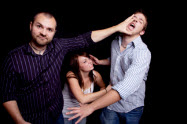 Like many other kids, my older son continued to wet the bed well into his teen years. On occasion his brothers and sisters would tease him about it. I would tell them to stop and life moved on. When his siblings began teasing him about it while at school and on the bus, this problem of sibling rivalry became something more destructive – character assassination. Character assassination by siblings is an increasingly dangerous problem online. Siblings are more dangerous than most for the following reasons:
1. They have an incredible amount of access to the person they are targeting.
2. That access gives what they are saying/doing credibility to others.
3. Dangerous behavior may be ignored as just sibling rivalry while the victim of the character assassination may be permanently damaged. Does this sound a bit over the top? Am I blowing this out of proportion?
Take a look at this video posted on youtube by one brother who videotaped his other brother when he knew he was going to be mad.
That video was viewed (at the time of this writing) 35 million times. That young man was just completely humiliated in front of 35 million people in the world, and counting. Thanks to his brother also posting his name and other personal information online that video won't just haunt him now, it will haunt him forever.
More and more, college admissions teams and hiring managers are googling people to find out more about them prior to making major, life changing decisions on their behalf. If you are the manager of a professional business how do you think this video is going to influence you? In the negatives column you will write – serious anger management issues etc; and move onto the next candidate.
Of course that will only matter if he even makes it out of his teen years. The thing about videos such as this is that they end up being the beginning of the end. The kids at school see the video. Maybe he had friends and a girlfriend, but now that he is the butt of all jokes it isn't as cool to be around him. Plus the parents that saw this video may worry he is a bad influence and they don't want someone with anger issues like him to be around their kids so they limit their interaction. Then…. Who knows. Maybe in a teenager's impulsive way he decides to end his life.
There are two messages that you, as parents, need to get from this video.
One – if your child becomes the victim of extreme character assassination, such as this one has, you need to take it seriously. Everything is magnified emotionally when we are teenagers. It may be wise to seek professional help for your child, just to be safe.
Two – It is imperative that you, as parents, protect your children from this type of attack. You can do this by setting up ground rules and monitoring the data that your children are allowed to upload to the Internet. Sometimes making strict rules is tough, but it's always better than being sorry you didn't.

Regards,
Heather H. Sams
Planet Ocean